Whenever I finish a project, especially a big project, I often find myself facing the 5 Steps of Loss and Grief.
The first step is denial- I often find myself waking up in the morning thinking about those last few stitches I need to do. I walk over to my project box and then kindly remind myself that the job has been finished. Project over. Next there is a brief flash of anger, "what do you mean it's done, now what am I going to do today?" Followed by bargaining, "Well, maybe I could add an applique or embroidery, I mean it can't actually be time to prep a new project!" Then a mild depression, "You mean I have to figure out something new to do..." This depressive step is very short because it quickly turns into
I have to figure out something new to do!
, the acceptance step.
Of course, once I have accepted that it is time to start a new project I am always faced with the same dilema: what to make now? I think that it doesn't matter how long you have been making and crafting the new project decision is a tough one. Especially now in the heyday of the internet where every craft blog and collective is popping up thousands of amazing and breathtaking patterns and tutorials itching to make it to your machine. Yet, you have to narrow it down to one.
I am always very interested to hear where people get their ideas for their next projects. In fact, when I am asked that very question a line from
Empire Records
pops into my head: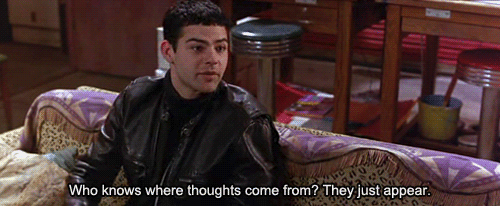 Of course, this isn't always true- just my snarky attempt at humor. Often times brilliant craft ideas do just pop into my head and I quickly struggle to jot them down so I do not forget them. But when I am in a creative slump (which can be often) I look to the internet. I have three go to sites when I am looking to be creative and need a little guidance:
Does any craft truly remember life before Pinterest? Those were dark and cold times. Very caveman-esque when crafters huddled in dark corners of Micheal's stores passing around their works in progress to friend's like drug dealers. Not anymore! Thanks to Pinterest you can share pretty much anything. It is a one stop shop for all your idea needs and it is brilliant.
I have found that CraftGawker (a part of the Gawker websites) is relatively unknown. This makes me sad. CraftGawker, in my opinion, is Pinterest with better curating. Where Pinterest is a library of great craft ideas- CraftGawker is a museum. It is full or amazing and creative craft projects and you can lose entire days browsing this site. Plus it's sister FoodGawker is the most glorious foodie site you have ever seen. If you have never Gawked- you need to get over there now!
3. Other Craft Blogs
I have learned so much from my fellow craft bloggers. I never would have even attempted quilting had I not stumbled onto the amazing collective of modern quilters out there. I was shocked to know that quilting could be fresh, vibrant, and young. Not only that these bloggers are the most supportive and helpful human beings on the planet (I of course assume they are human and not quilting robots, as sometimes they seem a little too talented and perfect). Craft blogs are full of people itching to share their talents and their skills and help build better crafters. I heavily rely on their insight, their expertise, and their experience.
As it is now time again to pick a new "big" project again. I return to my fave three sites. To that rush of joy that comes from planning a new project and the frustration of being spoiled for choice and it is a wonderful thing.
Have place for ideas I missed or maybe haven't heard of? Leave it in the comments!